Congratulations to Rebecca and Jeff!
Rebecca and Jeff celebrated their love for each other at an elegant winter wedding at the Palais Royale. The day started with preparations at her parent's home in Burlington before we headed back into Toronto along the lakeshore for the wedding and reception.
On a personal note it was great to photograph this wedding. Rebecca and I were classmates from grades 5 through 8 and thanks of course to Facebook, reunited with our classmates about three years ago. Before that point, the last time we saw each other was in 1990! Bianca, another classmate was Rebecca's best lady and between the three of us we must've looked at each other, shook our heads and said 'wow' many times over. It's a real trip (there is no other way to describe it) to see each other again as responsible grown-ups, each with successful careers and in loving relationships.
And yet, so much remains the same. Rebecca is the same outgoing, vivacious leader with a larger than life personality. In Jeff she has found a sincere and kind soul. When I met at their home to discuss wedding plans I was struck over and over again by the respect and caring that Rebecca and Jeff share for each other. It was a sentiment echoed in all the wedding speeches — not only are they a great couple, but they are first and foremost great friends.
Here are just a few images from their wedding day. With the upcoming holidays I will be slowing down the Imajing train to enjoy the company of family and friends. I hope that you are able to do the same! Have a safe and happy holiday season!
Wedding guests please check back here in January for a link to the wedding gallery.

Rebecca with her parents Ann and Jim.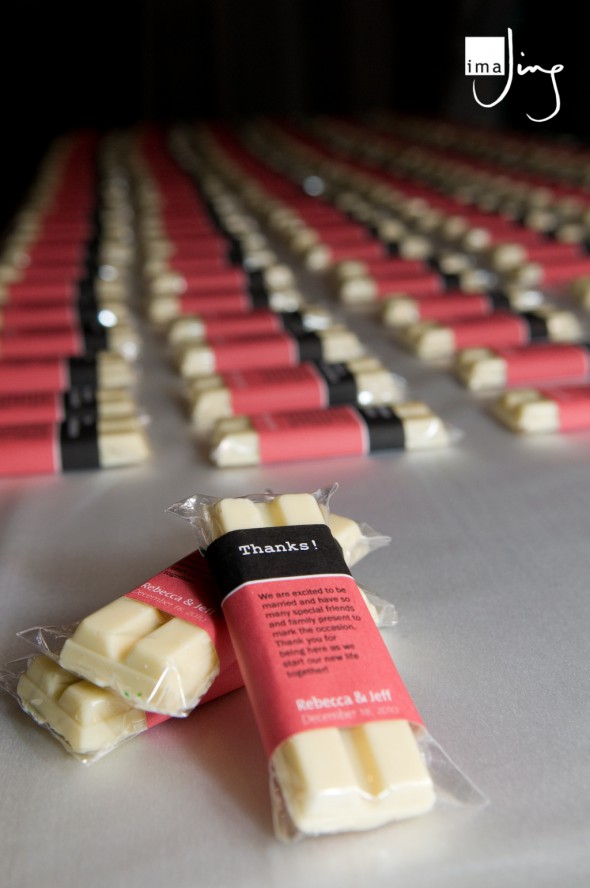 Rebecca and Jeff wrote individual thank you notes to each of their guests and wrapped these sentiments around the hand-made chocolates.

Beautiful centre pieces made by the bride and best lady's moms complete the festive look of the Palais Royale dining room.

Rebecca and Jeff brave the December cold for a few moments alone before the ceremony.