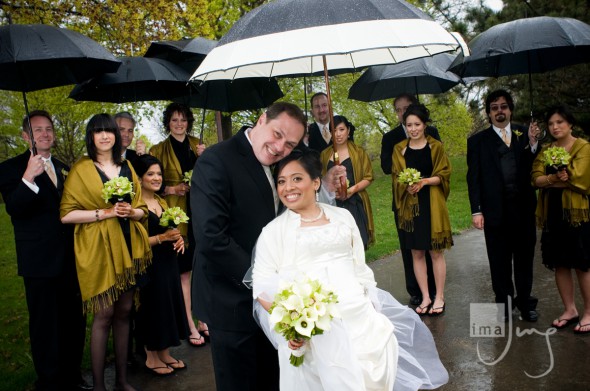 Congratulations to Gail and Michael!  This happy couple celebrated in style on April 25 with a beautiful and unique wedding filled with the music, colour and food of their shared Indian, Japanese and Canadian heritage.
Gail and Michael chose to have their photos done before the ceremony.   We made sure to set up a 'reveal' for Michael so that his first look at Gail was a special moment.  Of course the photographer, bridesmaids and parents all had front row seats for this moment.  For brides taking notes, this is a great idea – your makeup is fresh and you get some of the wedding day jitters out of the way.  The forecasted rain finally showed up just as we were scheduled for most of the group photos but we were ready with a light set up for indoor family shots and then motivated the bridal party and their golf umbrellas to brave the rain for this great group shot.
The ceremony at Rexdale Alliance Church was filled with beautiful music composed by one of the bridesmaids.  On a personal note, it was wonderful for me to have my husband Fred assisting me for the day.  Not only did we get to spend the whole day together, but we also listened to a great sermon on marriage by Pastor Sunder.
After the ceremony the ladies changed into the most gorgeous array of colourful saris with the help of the many aunties on standby.  We arrived at the Verdi Banquet Hall to the delicious aroma of the Indian buffet and were treated to a show by Japanese taiko drummers, and an Indian dance performance.
More photos will follow in the next few days and I will also be adding the link to the full gallery of images for the wedding guests to access here.  So please check back!
UPDATES
** Full wedding gallery click here to go to www.imajing.com/weddinggalleries2010/100425gailmichael/
** Wedding slideshow, click below.